LA SUISSESSE
This blend of Gruyère, Emmental, white wine, kirsch and garlic is a historic and authentic Swiss fondue.
Did you know that…
Having first appeared in the 16th century, cheese fondue became emblematic of Switzerland at the 1939 New York World's Fair (1939-1940). In the '50s, the Swiss Army included fondue in its cookbook. It is now one of the national dishes of this European country!
According to tradition, if someone loses their bread cube in the fondue pot they have to pay for the wine. Watch out!
Buy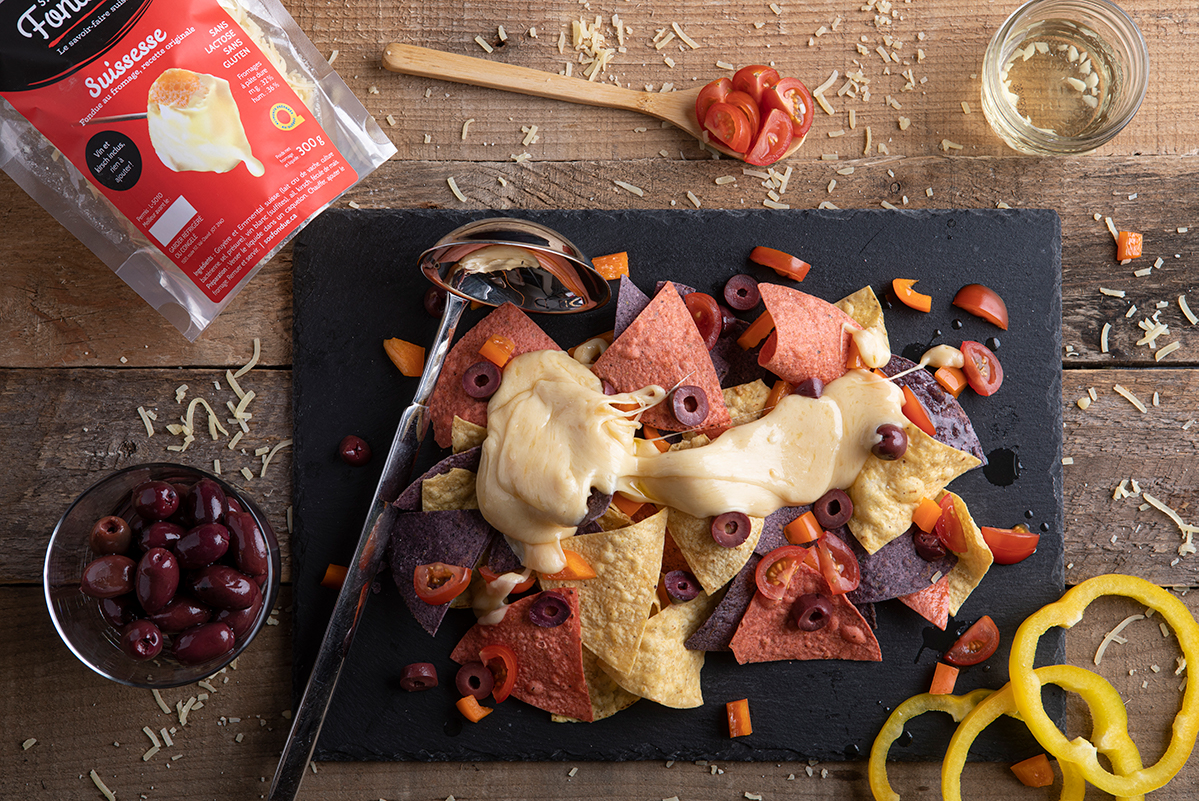 L'EDELWEISS
This blend of Gruyère, Emmental, white wine, kirsch, garlic, herbs and spices is a family recipe.
The little story…
The Edelweiss cheese fondue recipe was created in Switzerland in the 1970s by the aunt of the founder of SOS Fondue. This lactose-free and gluten-free fondue with a creamy texture will melt your taste buds. You can try to decipher the recipe although it is as well guarded as a Swiss bank vault!
Buy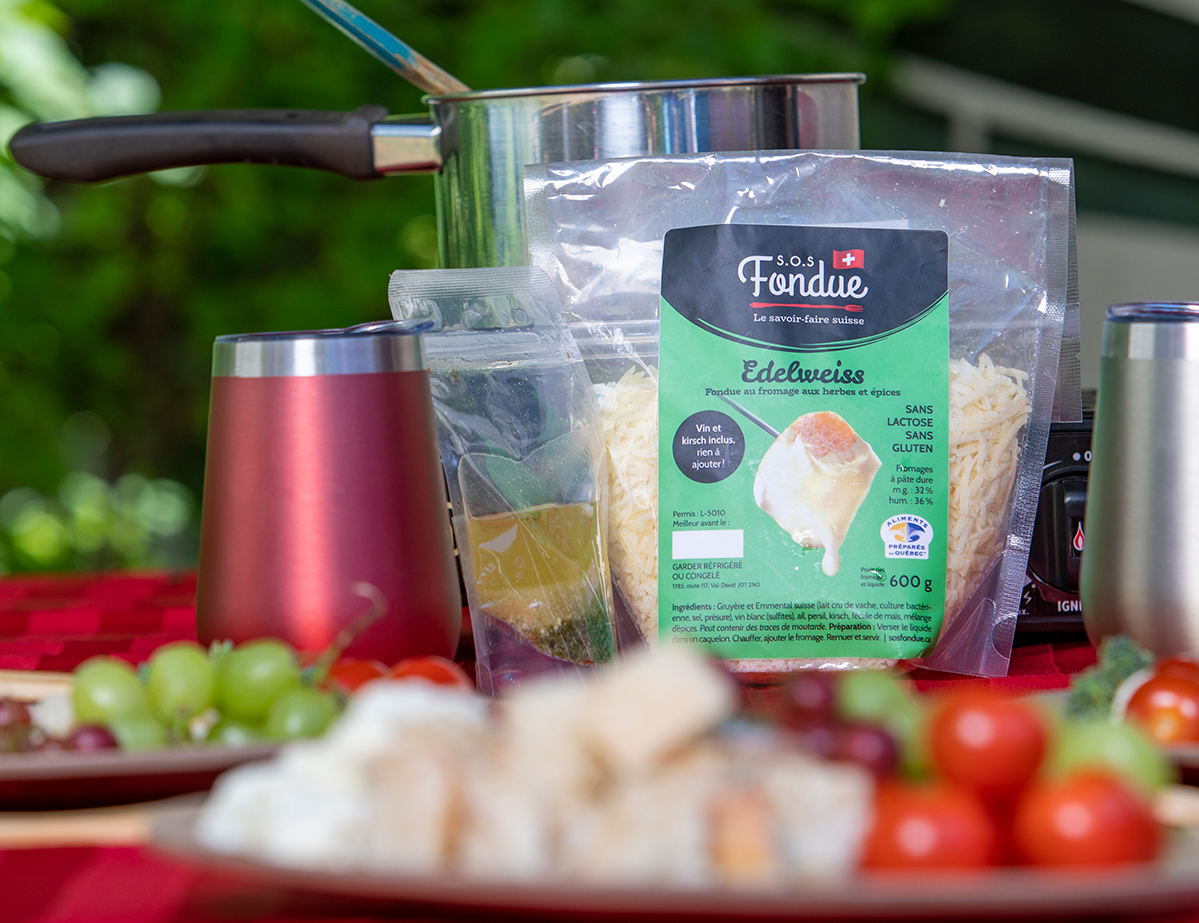 LA MOITIÉ-MOITIÉ
This blend owes its name to its composition! The Moitié-Moitié recipe is composed of 50% Gruyère, 50% Vacherin Fribourgeois, white wine, kirsch and garlic.
The most popular recipe in Switzerland!
This cheese fondue blend first came to the fore in Switzerland in the 1850s. With family or friends, the distinct taste and incomparable smoothness of Moitié-Moitié make for a real treat! As an accompaniment, we suggest you opt for a delicate, light and crisply chilled white wine such as l'Orpailleur, a delicious Québec wine.
Like spring snow, you will melt for this fondue! Bon appétit!
Buy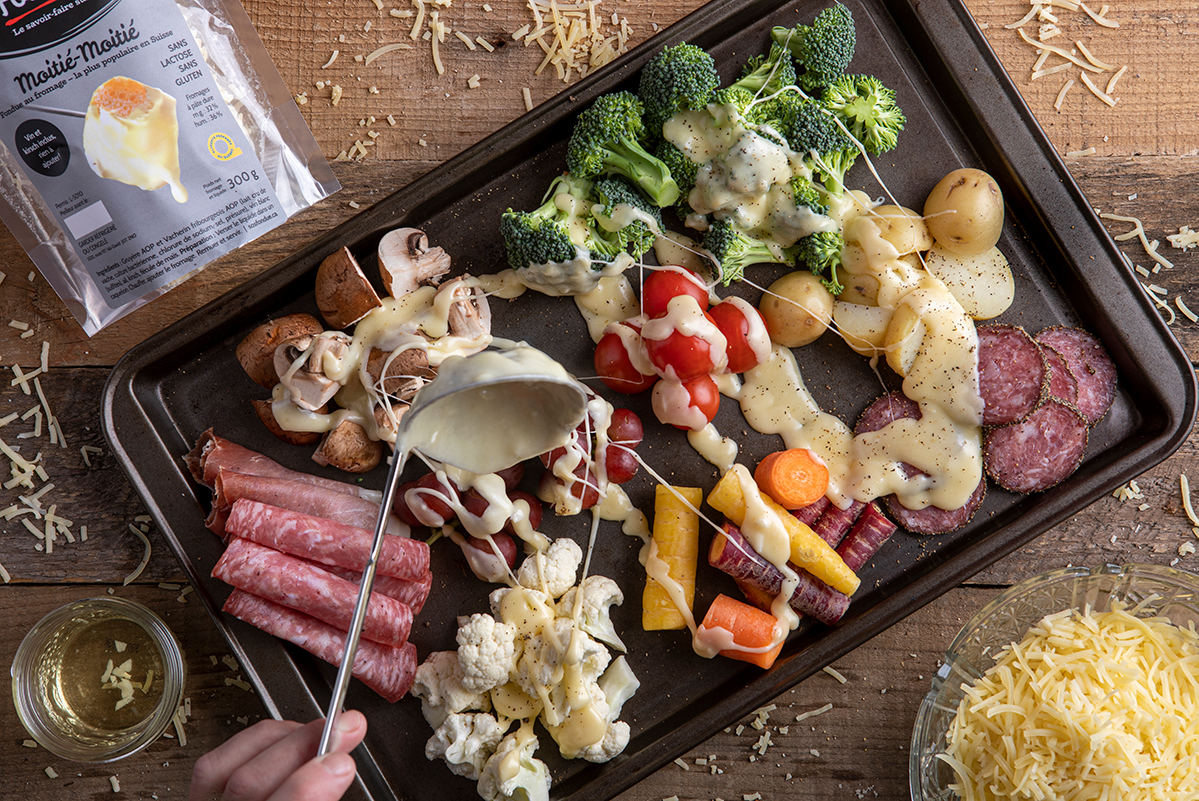 LA BRASSICOLE
The Brassicole recipe is composed of a blend of Gruyère and Swiss Emmental, beer and garlic.
The perfect pairing of Swiss cheese and Québec beer!
The Brassicole is prepared with amber Biophilia beer from Le Baril Roulant micro-brewery in Val-David. This biological amber ale is brewed with Québec malts and flavoured with American hops, conferring a warm colour and a hint of caramelizing to the fondue.
Buy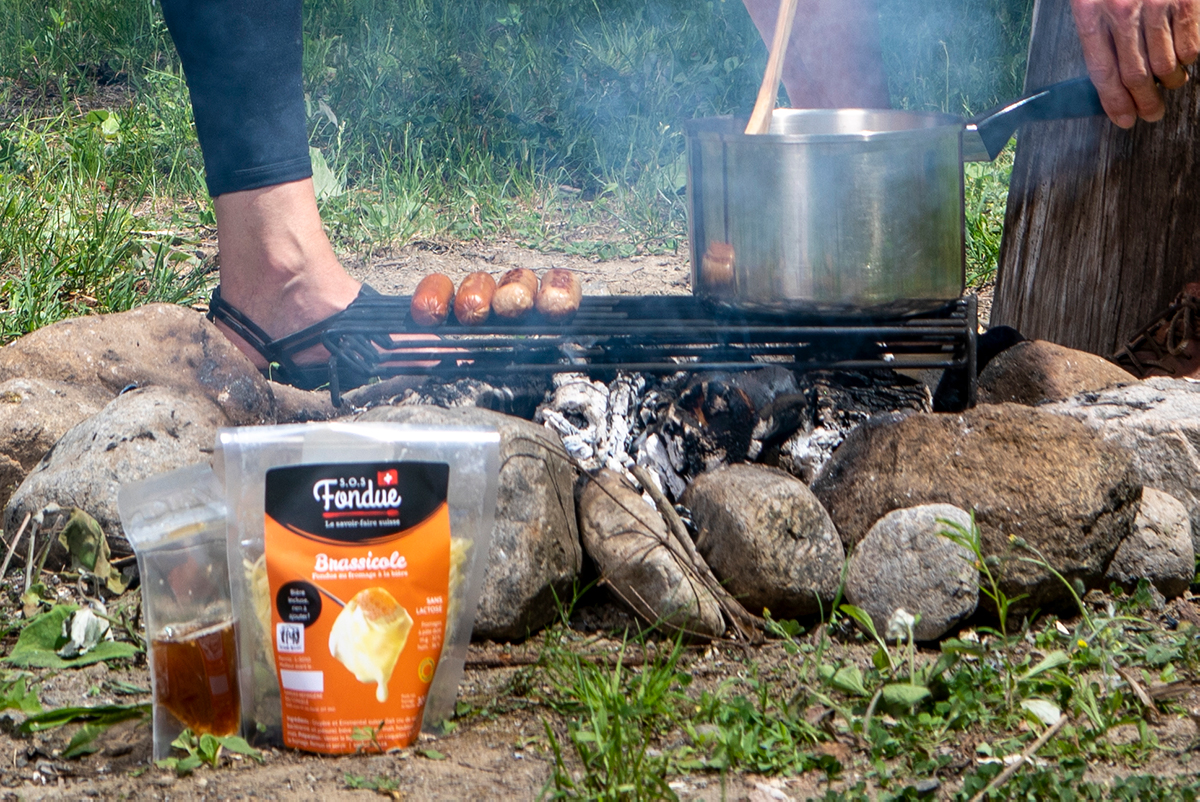 LA VALAISANNE
This blend composed of Gruyère and Swiss Emmental, tomato purée, garlic and fresh herbs is the perfect choice for a friendly get-together!
When tomatoes and cheese go hand in hand!
As its name suggests, the Valaisanne recipe comes from this mountainous canton in southern Switzerland. It has been all the vogue in this canton since the years 1950-1960, thanks to the region's bistros that popularized it, but it seems that it was already being enjoyed as early as the dawn of the 20th century.
The addition of tomato purée to the recipe adds fresh notes to the fondue. Thus, it goes wonderfully with cubes of ham, sausages and vegetables. It is also delicious when drizzled over potatoes!
Buy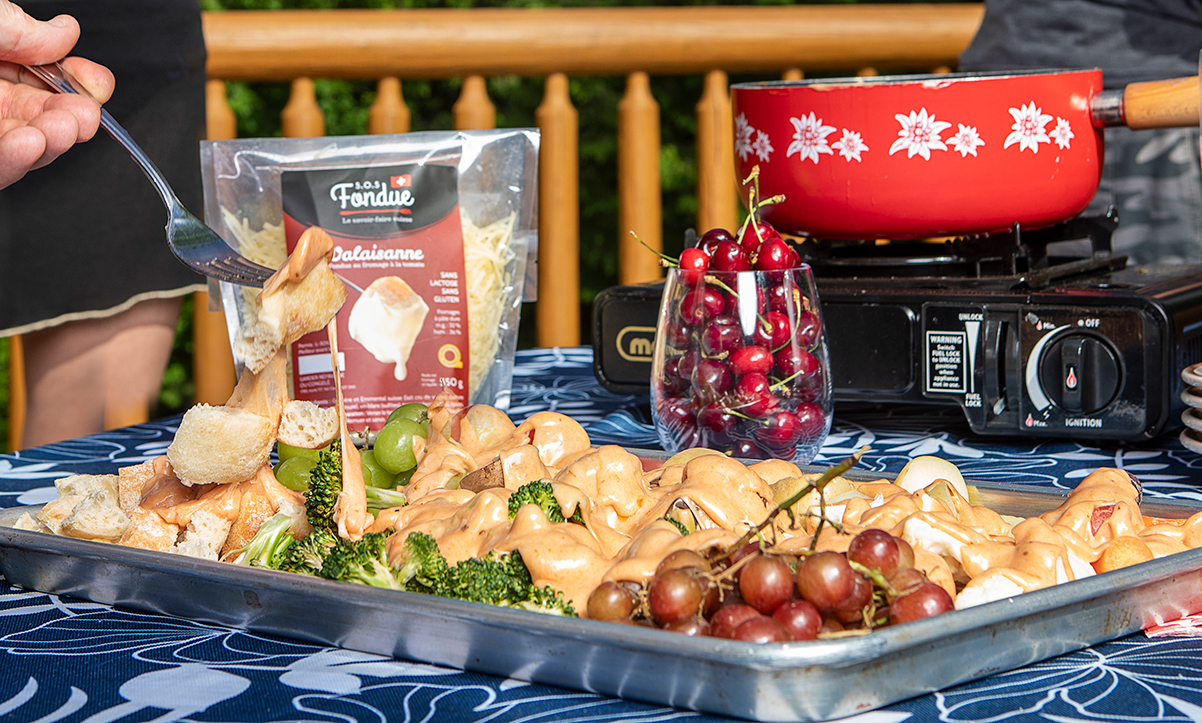 L'ALLIANCE
This recipe features Swiss Gruyère, Freddo cheese from Québec, white wine, garlic and kirsch.
The perfect marriage between Switzerland and Québec!
It was in October 2020 that our 6th recipe, L'Alliance first came to light! It marries Swiss Gruyère and Québec's Freddo cheese, made locally by the Fromagerie de la Suisse Normande. Featuring the best of both worlds, and great taste!
Buy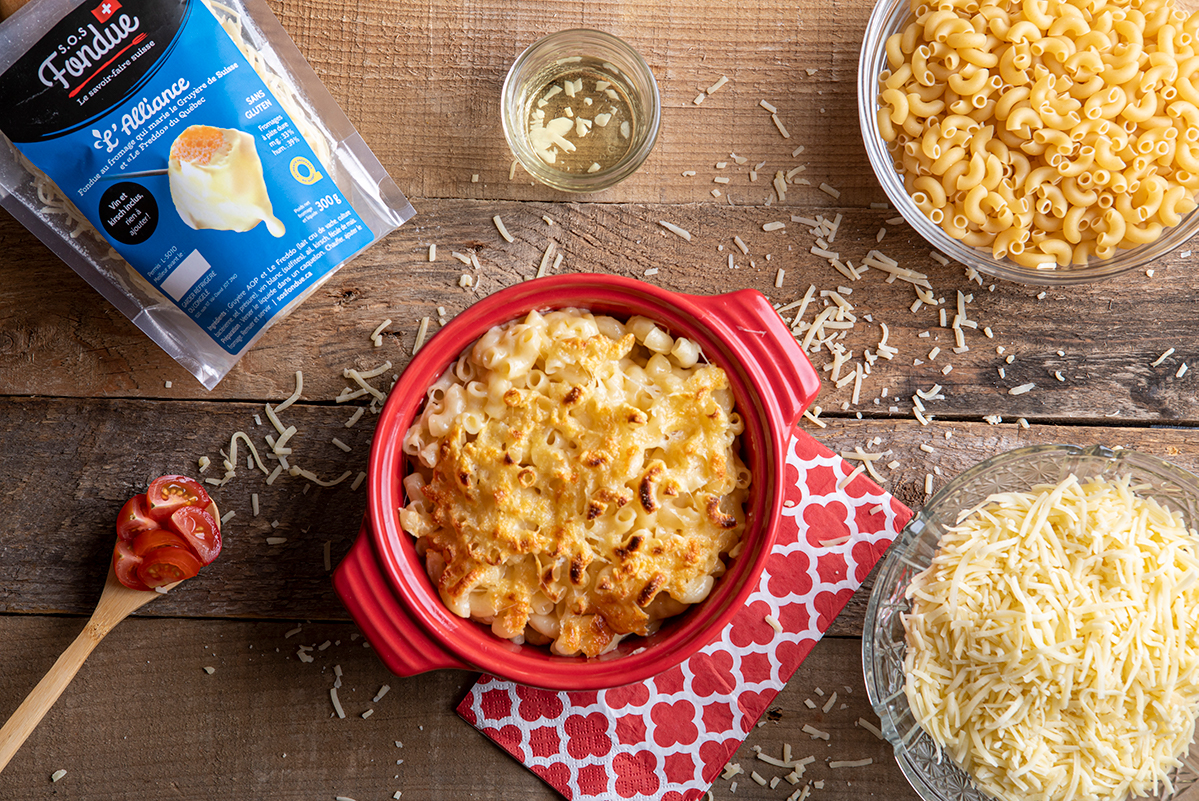 DID YOU KNOW?
Our authentic fondues are entirely prepared by hand in our workshop in Val-David. Unlike the factory packed boxes found in supermarkets, our product is fresh and without a trace of preservative. It can be kept for about twenty days in the refrigerator and can be frozen for four months without altering its freshness and taste.
About us