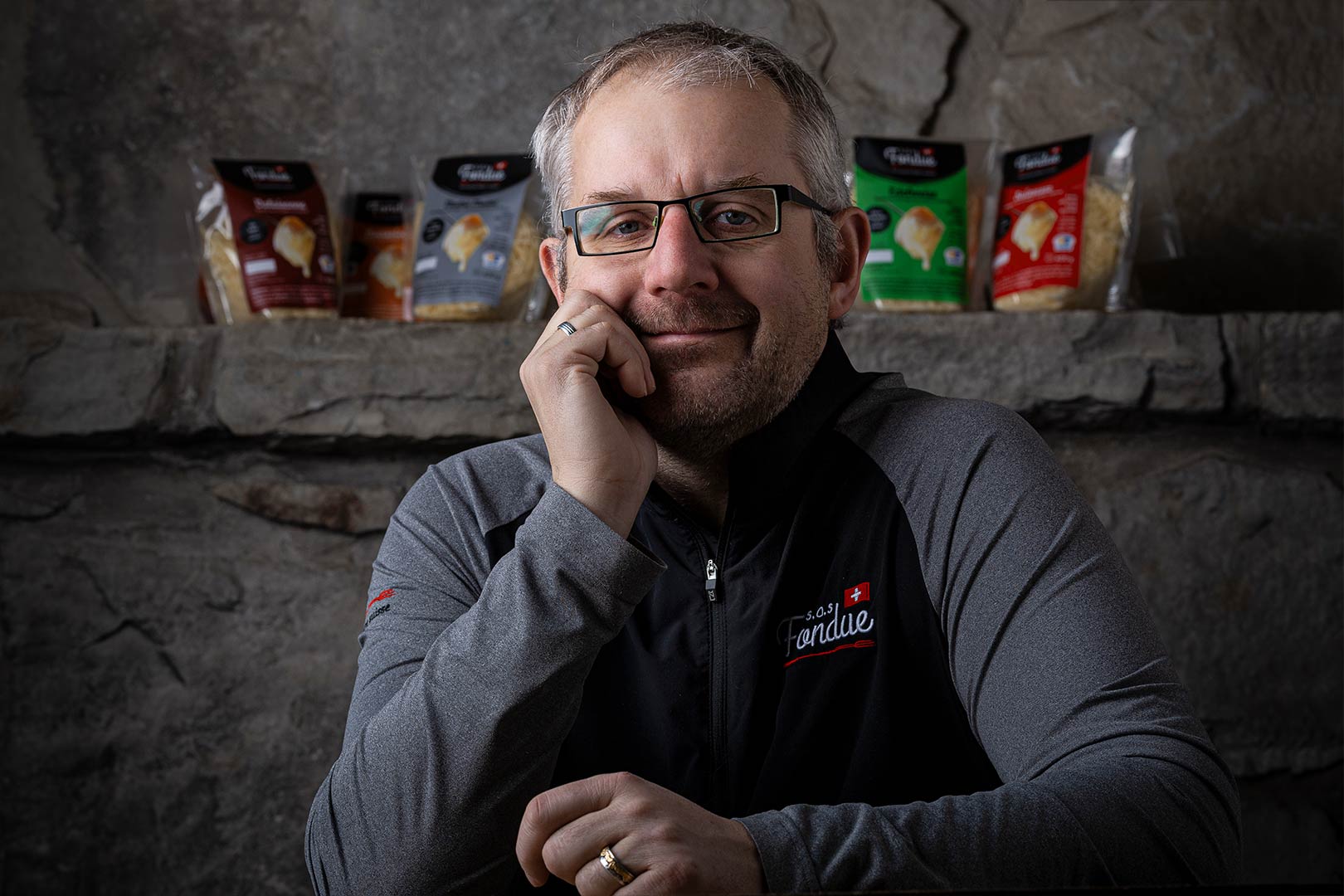 AUTHENTIC

An authentic ready-to-serve Swiss cheese fondue

SOS Fondue, founded by Gérald Golay of Switzerland, and established in the Laurentides since 2012, offers authentic and artisanal ready-to-use Swiss cheese fondues.
With their unequalled taste and creamy texture, our superior quality products are a treat for all cheese fondue lovers. Each preparation includes a pouch of our cheese mix, and a second with the wine (or beer), garlic or other ingredients, depending on the recipe.
EXPERTISE

A Swiss fondue with an unrivalled taste
SOS Fondue distinguishes itself not only by the quality of our Swiss cheese fondue preparations, but also by our unique offer, which has earned us the following distinctions:
Winner of theCoup de coeur du public (Public's Choice) prize
Winner of the Entreprise agroalimenatire (Agri-food company of the year) prize
(2018 Grand Sainte-Agathe Chamber of Commerce Gala)
SUCCESS



Our recipe for success
The success of SOS Fondue is largely due to our Edelweiss preparation, a family recipe featuring herbs and spices, kept from an aunt who invented it in Switzerland in the 70s and decided to commercialize it here in Quebec.
In 2017, just 5 years after its creation, SOS Fondue settled into a new manufacturing space in Val-David in the Laurentians. This relocation helped the company ensure steady production and meet the constantly growing demand of genuine Swiss cheese fondue enthusiasts. The same year, we bought over 7 tonnes of Gryuère and Emmental to make our fondue pouches, an increase of 40% compared to 2016.
Our SOS Fondue products, offered through our online store, are also available in approximately 30 different points of sale throughout Quebec.
DELIVERY
Home delivery: a unique service!
Whether you're ordering for a reception or for dinner for two, make one quick call and you'll receive our authentic Swiss cheese fondue preparation the next day with our home delivery service between Montréal and Mont Tremblant.
AWARDS
Our Success Rewarded!
Innovation Award 2023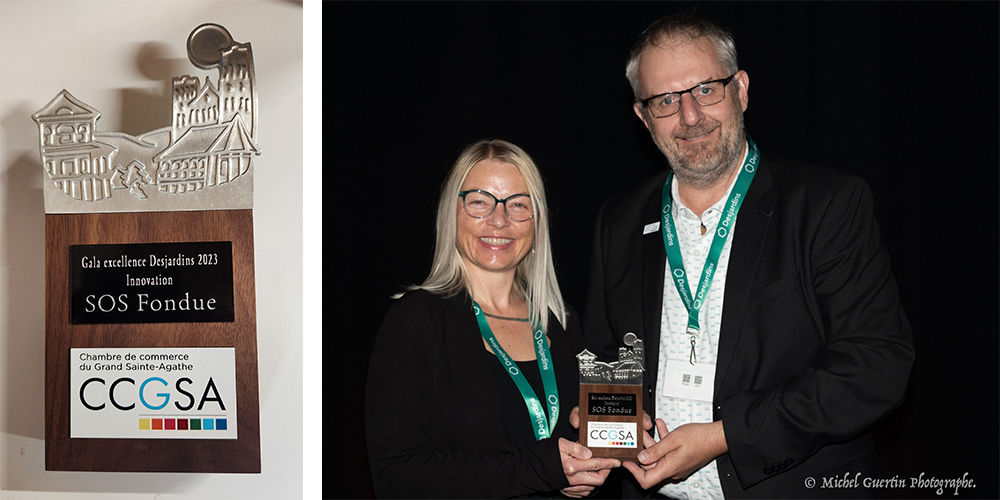 At the 22nd Desjardins Excellence Gala for the Grand Sainte-Agathe Chamber of Commerce, we were rewarded in the Innovation category, an award presented by Hydro-Québec. In this photo: Gérald Golay pictured with Ms. Julie Ouellet, Advisor – Community Relations for Lanaudière, Laurentides, Laval, and Outaouais at Hydro-Québec. The Food Innovation Awards provide remarkable visibility to companies that showcase great creativity by developing promising projects that become a source of inspiration for the entire food industry.
PRESS
has a lot to say about us!
Follow us on social media!